There are numerous ways conventional air purifiers can improve your home, including offsetting odors, stopping allergens and even subduing bacteria. With the HALO-LED in-duct air purifier, you get all of those benefits and more. Aside from treating your home's air quality, the HALO-LED has patent-pending technology and environmental aspects that beat out other options. Here are some ways it can allow for a higher quality of life and save on cost.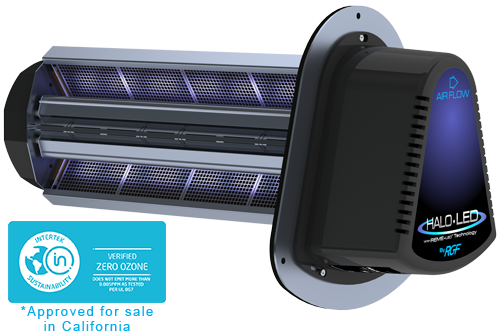 Advantages of the HALO-LED Air Purifier
The LED array cell can last up to 5 years without needing to be replaced, more than doubling the current industry normal. It utilizes REME-LED technology, which uses less energy and is easily replaceable. This technology is patent-pending and has a long life. To add to this, the unit only turns on when the HVAC system is cycling air, which is a first for this type of unit.
With the air purifier placed inside the duct work, your entire home will receive treatment, not just a single area or room.
Ozone can cause damage to the lungs, can act to deaden your sense of smell and even worsen respiratory related diseases. The HALO-LED is the first of its kind to be ozone and mercury free, eliminating potentially harmful risk to the body.
The catalyst is made from ceramic and is washable. This new type of catalyst can destroy volatile organic compounds (VOCs) faster, as well as be able to release hydroperoxides throughout your home. In releasing hydroperoxides in your  home, they'll help to neutralize air particles that can affect your health, such as dust, allergens, viruses, and more.
Professional Quality Peace of Mind
All of these benefits will ensure that the air around you is safe and easy to breathe. At Wayne Price Heating and Cooling, we want to make sure you have the best in air quality. The seven year limited warranty offered for the HALO-LED air purifier makes owning one easy and hassle-free. Contact us today to find out more about air purifiers or any heating and cooling questions you have. We deliver peace of mind and would like to pass it on to you and your family.